Overview
Due date: Thursday 11:59PM, December 11, 2014.
The final project counts for 50 percent of your overall class grade and should consist of two things:
A publishable component

No minimum number of charts
A minimum of 600 words of narrative, no matter what the format of what you've published
Should read like a published news story. An inverted pyramid is a perfectly fine format for this.
As with typical news stories, include sourcing. You can include material/quotes from the article you're producing in your reporting class.

A postmortem-project memo describing:

The question or hypothesis you had intended to test when beginning your reporting.
How the data you collected either validated, or challenged your assumptions.
An overview of the obstacles you encountered in collecting and analyzing the data.

A list of every data source you collected, and for each item:

What the data source is
Where it came from
What it contained, e.g. how many records, the type of fields
Why you thought the data source was relevant to your project
Calculations and queries you attempted on the data source
Any problems or inconsistencies you found in the data
Grading criteria
Note: I'm willing to shift the exact weights of these components to give you the most benefit of the doubt. If the circumstances of your project resulted in a relatively light publishable component, then you can make it up for a thorough postmortem memo that describes the challenges and complexities you faced.
Subjective
The publishable component demonstrates your ability to use data to bring context to a particular topic or event. (30%)
The postmortem memo indicates the breadth of your reporting and attempted analysis, even if the publishable component wasn't as striking or successful as you had hoped. (30%)
Objective
The publishable component contains a narrative of at least 600 words. But what exactly is that narrative? Read on below in the "Grading in detail" section. (10%)
The postmortem memo is at the very least 2 (properly formatted) pages. (10%)
The postmortem memo lists at least 3 to 5 data sources, whether your analyses of them makes it into your publishable component. If you have fewer data sources, then the memo must describe why you believe those sources were comprehensive enough for your project. This could be demonstrated by describing the types of queries and calculations you performed on the dataset. (10%)
Both the publishable component and the memo meet the editing standards of a professional publication. If the written material is rife with basic errors in English usage and is difficult to even just read (e.g. you don't bother to use paragraphs), I can't easily assume your reporting and research aren't just as slipshod. (10%)
What's not being (harshly) graded
The number of your visualizations: The purpose of this project is to demonstrate that you can use data to investigate a topic or event, as well as communicate the context to an audience. It's completely possible to do this as a traditional longform story. The purpose of a visualization is to drive home an insight about the data in a clearer, more concise way that text cannot. If certain aspects of your data are not insightful, don't make visualizations of them. Think of it as how you wouldn't add dull photos to a story.
The aesthetic or technical quality of your visualizations: as I've said before, this is not a design class. The visualizations should be insightful, and not misleading. But other than that, I'd accept a hand-drawn chart that was true to the data and vital in illuminating it. If you intend to publish, we can work together on refining and polishing them. But I'm not going to penalize you for poor artistry.
The potential web presentation of your published project: For the purposes of evaluating your work, don't let what you think your publishable component will actually look like on the Peninsula Press. As in the real newsroom, you might decide to fold a standalone sidebar into your main story, and reduce the number of charts. Or you may take what was just going to be a supporting chart in your main story, flesh it out, and make it a standalone article. Rather than be distracted with what could happen, focus on having at least a 600-word narrative that explains the importance and relevance of your data-reporting.
Grading in detail
The publishable component
This can range from a completely standalone package (i.e. different from the final projects you're producing in another class). Or a sidebar that supplements one of your other projects.
An example of a standalone package
The project we studied at the beginning of the quarter, FiveThirtyEight's Allison McCann's, "The NFL's Uneven History Of Punishing Domestic Violence", which contains a lengthy narrative with several charts.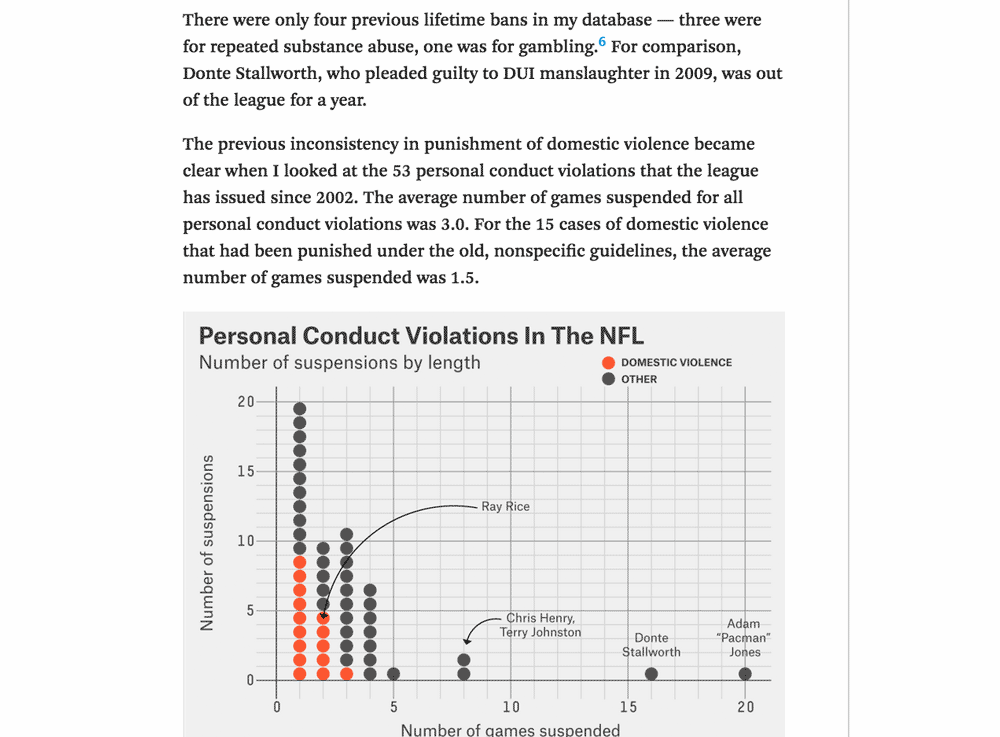 An example of a sidebar
PBS Newshour's "What do the newly released witness statements tell us about the Michael Brown shooting?". The chart PBS produced is meant to accompany the main coverage regarding Ferguson and it contains roughly 600-words of narrative to explain the significance of the chart and the data-reporting.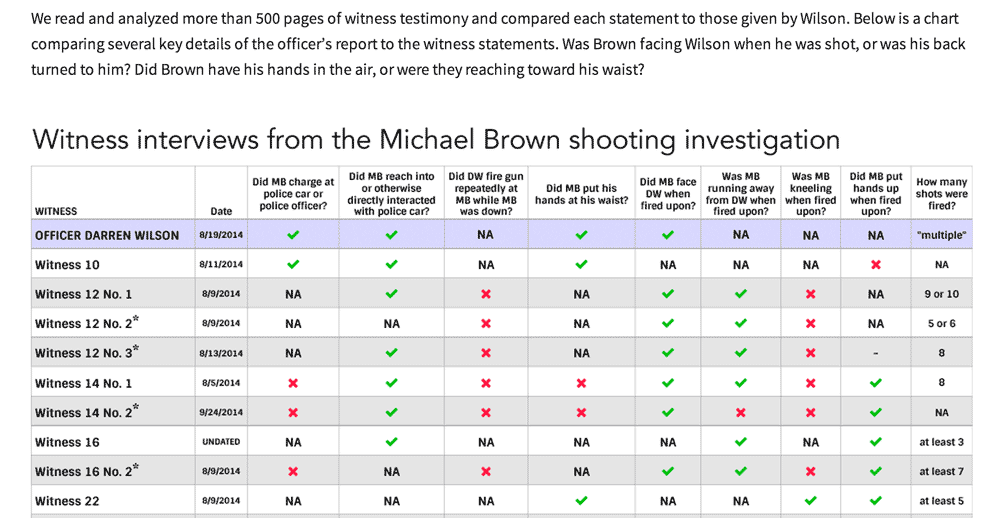 The 600-word narrative
You are required to provide a 600-word minimum narrative no matter what you produce as the publishable component of your project. Obviously, this requirement is met if you were planning to write a 1500-word data story. But it should still be easy to meet even if you are producing just a single chart.
This narrative should be similar to a news feature:
Inverted pyramid is probably the easiest way to go, with a lede and nutgraf explaining the significance of your data project.
Properly source your information. Use quotes and material from interviews and research as necessary.
Even the best, most memorable photos have a full story behind them. If a photographer spent 30 hours with one subject and produced just a single cover photo, the photographer would still be able to write a narrative about what's going on in the photo and why the subject was worth spending 30 hours with.
And this is the same deal for an important chart. Pretend as if you were writing for the visually-impaired: the insights your chart purportedly shows should be easily explainable in words. Your narrative should include, but not be limited to: Why this chart (or charts) are important, the source of the data, the story behind the source of the data, etc.
Again, take a look at PBS Newshour's Ferguson chart. The chart contains a lot of information, but its creators included a narrative explaining the intentions and the ins-and-outs of the data behind the chart.
Another great example from The Marshall Project: The Pentagon Finally Details its Weapons-for-Cops Giveaway